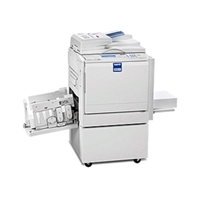 3275DNP
Engineered to meet the diverse needs of educational, religious and non-profit organizations, the Savin 3275DNP offers high-speed output, good image quality and exceptional ease-of-use.
Plus, you'll enjoy the affordable networking connectivity that is required by everyone, even those on a budget. Create documents that look professional with smooth, solid images, clear grayscales and consistent halftones; the Savin 3275DNP incorporates advanced ink control technology that distributes High Density Ink with precision and control.
Printing Process: Press Roller System, Full Automatic One Drum System
Printing Speed: 60 - 120 sheets per minute
Originals Sheet/Book: Max. 11.7" x 17" (297 mm x 432 mm); (ADF) Min. 4.1" x 5.8" (105 mm x 128 mm)
Paper Size: Maximum: 12.8" x 17.6"; Minimum: 2.8" x 5.9"
Brand :
Savin
Category :
Digital Duplicators