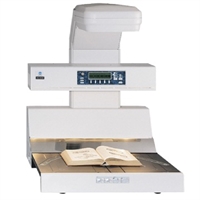 PS7000
Scan large volumes in face-up position with the Konica Minolta PS7000 book scanner. An adjustable cradle provides gentle, stress-free support for the spine of each volume being scanned -- and fast, face-up scanning lets you digitize more information in less time while protecting fragile bindings.
Digital scanning lets you make multiple copies with a single scan, to minimize light exposure on rare or deteriorating books and documents. Powerful features of the book scanner include: 600 dpi resolution, auto focus/exposure and automatic masking of borders. The Konica Minolta PS7000 book scanner is a superior system for scanning large-sized books, artwork, ledgers and other bound materials -- with face-up scanning that protects your originals.
Scanning Speed: 4.5 seconds per page
Scan Area: 17" x 23-3/8" (maximum)
Resolution: 600 dpi (11" x 17") / 400 dpi (17" x 23-3/8")
Image Sensor: reduction-type line ccd (7500 pixels)
Print Size: 11" x 17", 8-1/2" x 11", 8-1/2" x 14"
Brand :
Konica Minolta
Category :
Scanners