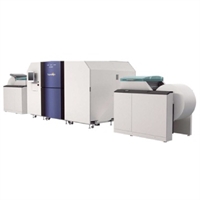 Screen Truepress Jet520ZZ
Squarely in the top tier of full-color variable printing presses, the Screen Truepress Jet520ZZ makes the distribution of informational materials faster and easier than ever before. Now you can Print on Demand (POD) affordably and easily.
Print on Demand (POD) at super-high speeds with the Screen Truepress Jet520ZZ. Offering reliable support for media used in jobs that demand high speed and high volume, this full-color variable printing press comes through again and again. Whether you're printing direct marketing materials, brochures, pamphlets or newspapers, the Screen Truepress Jet520ZZ will help you Print on Demand and save money in the process.
Print speed: up to 722 feet per minute
Product Configurations: Simplex, Dual Engine Duplex
Paper Width: 6.50" to 20.47"
Printing Width: 5.90" to 19.7"
Typical Monthly Print Volumes: =10 Million Pages
Brand :
Konica Minolta
Category :
Press Platform