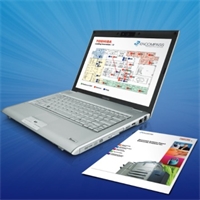 Encompass Managed Print Services
Encompass uncovers the hidden costs associated with all of your various output devices—copiers, printers, scanners and faxes—and discovers cost saving opportunities of up to 40% throughout your enterprise.

Here's how it works: One of our Managed Print analysts completes a detailed, physical walkthrough of your office and compiles an inventory of your entire fleet of document equipment, every device in every location.

Using the exclusive Encompass Online analytical engine, our analysts discern usage patterns throughout the document lifecycle—from document creation, moving through storage, retrieval, distribution, and disposal.

All service, support and vendor programs are measured against usage patterns to identify cost saving areas.

Contact us today to schedule your Encompass analysis.




Brand :
Toshiba
Category :
Software Solutions